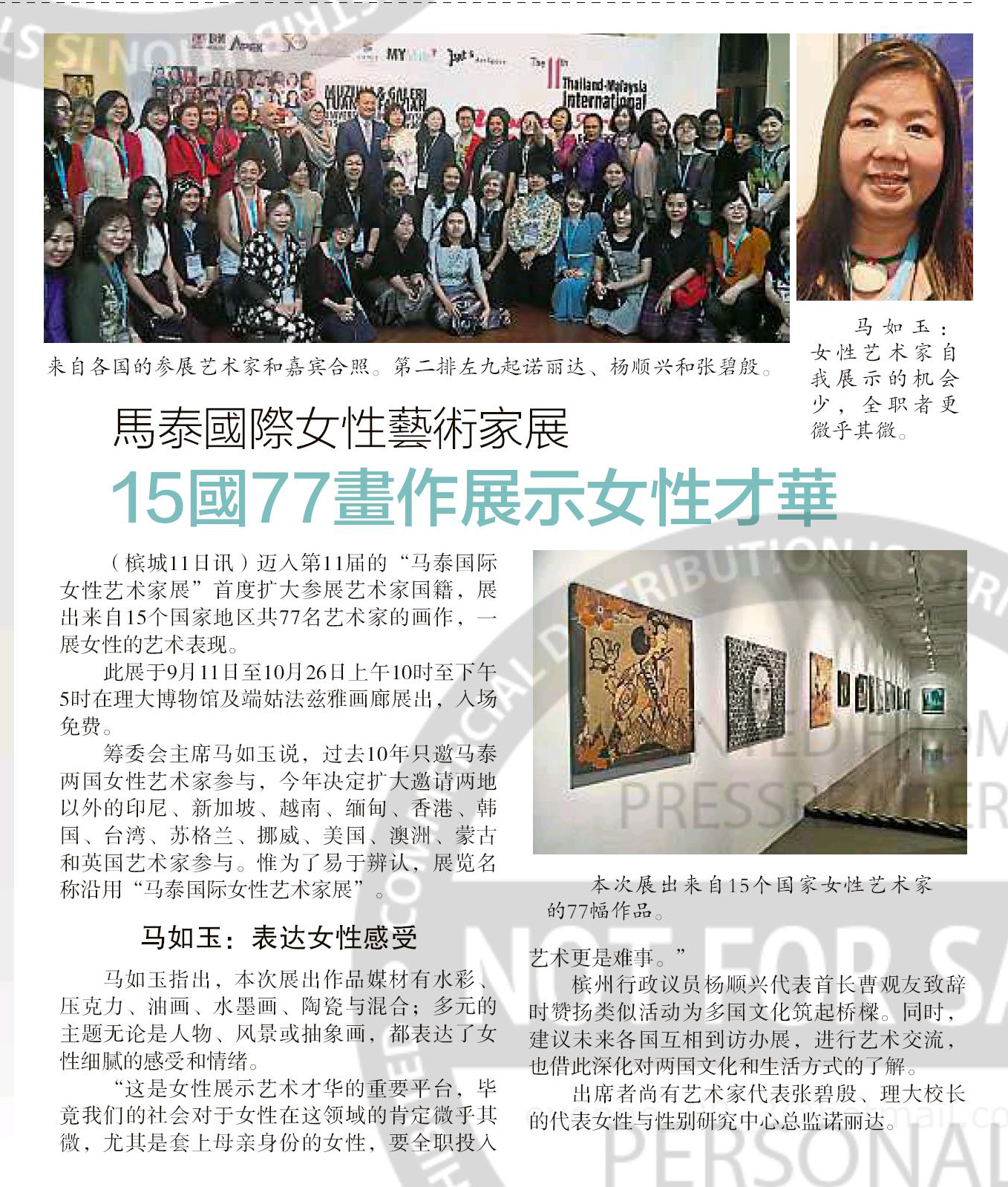 迈入第11届的"马泰国际女性艺术家展" 首度扩大参展艺术家国籍,展出来自15个国家地区共77名 艺术家的画作,一展女性的艺术表现。
此展于9月11日至10月26日上午10时至下午5时在理大博物馆及端姑法兹雅画廊展出,入场免费。
筹委会主席马如玉说,过去10年只邀马泰两国女性艺术家参与,今年决定扩大邀请两地以外的印 尼、新加坡、越南、缅甸、香港、韩国、台湾苏格兰、挪威、美国、澳洲、蒙古和英国艺术参 与。惟为了易于辨认,展览名称沿用"马泰国际女性艺术家展"。
马如玉 : 表达女性感受 马如玉指出, 本次展出作品媒材有水彩、压克力、油画、水墨画、陶瓷与混合;多元的主题无论 是人物、风景或抽象画,都表达了女性细腻的感受和情绪。
"这是女性展示艺术才华的重要平台,毕竟我们的社会对于女性在这领域的肯定微乎其微,尤其是 套上母亲身份的女性,要全职投入艺术更是难事。"
槟州行政议员杨顺兴代表首长曹观友致词时赞扬类似活动为多国文化筑起桥梁。同时,建议未来 各国互相到访办展,进行艺术交流,也借此深化对两国文化和生活方式的了解。
出席者尚有艺术家代表张碧殷、理大校长的代表女性与性别研究中心总监诺丽达。
Entering The 11th "Thailand-Malaysia International Women Artists Exhibition", the nationality of participating artists was expanded for the first time, paintings from 77 artists from 15 countries and regions were exhibited, and women's artistic expression was exhibited.
The exhibition will be exhibited at the University of Science Malaysia, Tuanku Fauziah Museum & Art Gallery from September 11 to October 26 from 10 am to 5 pm. Admission is free.
Jade Beh, chairman of the Preparatory Committee, said that only women artists from Malaysia and Thailand were invited to participate in the past 10 years, and this year it was decided to expand the invitation to Indonesia, Singapore, Vietnam, Myanmar, Hong Kong, South Korea, Taiwan, Scotland, Norway, the United States, Australia, Mongolia Participate with British art. However, for easy identification, the name of the exhibition follows the "Thailand-Malaysia International Women Artists Exhibition".
Jade Beh: express female feelings Jade Beh pointed out that the media of the works in this exhibition include watercolors, acrylics, oil paintings, ink paintings, ceramics, and hybrids; diverse themes, whether they are characters, landscapes, or abstract paintings, express women's delicate feelings and emotions.
"This is an important platform for women to showcase their artistic talents. After all, our society certainly has very few women in this field, especially women who are mothers. It is even more difficult to invest in art full-time."
In a speech on behalf of the head of state, Chow Kon Yeow, Chief Executive of the Penang State Councilor Yeoh Soon Hin praised similar activities for building bridges for multinational cultures. At the same time, it is recommended that all countries in the future visit each other to hold exhibitions and conduct art exchanges, in order to deepen their understanding of the culture and lifestyle of the two countries.
Attendees were also represented by artist representative Rosalynn Teoh Phaik Eng, and president of University of Science Malaysia representative woman and gender research center Dr. Asma Ismail.